Our Leather Goods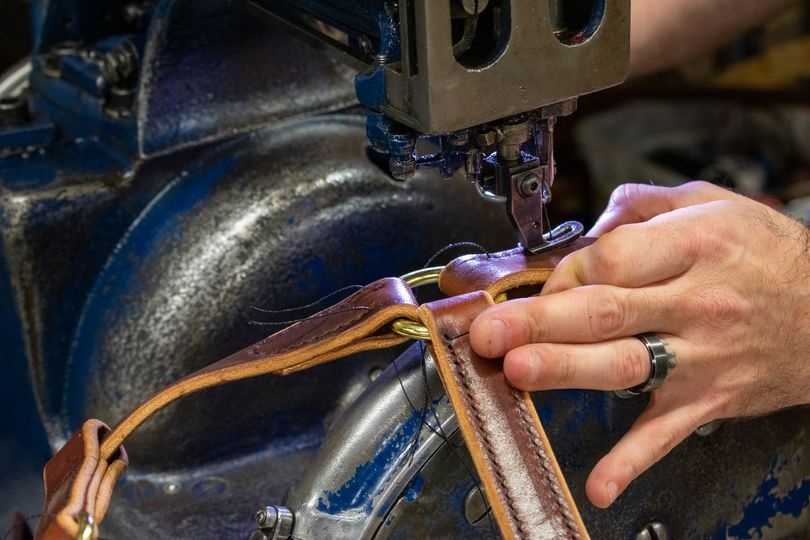 Kentucky Made Leather Halters are made with the finest leathers, hand selected and hand cut, to produce a beautiful quality halter for your horse.
Our standard in stock Halters are Brown and Brass. Black Halters are available, but expect a little longer delivery time, especially on the Black Turnout Halters
All Quillin Leather Goods are produced in our Paris Kentucky Main Street Shops. We've hand crafted fine leather goods since the mid 70's and opened Quillin Leather & Tack in 1982. Currently we ship almost 20,000 halters a year worldwide to major breeding, boarding, training farms, sport and pleasure horse owners plus our personal and pet product customers. 
We opened our Second location in 2021 in a renovated 1897 building on Main Street in Downtown Paris. We will be adding much needed production space to meet the growing demand for our halters and our ever increasing workforce. From two people in 1982 to over 20 employees today and halters shipped to every continent, we continue to grow our Main Street Shops.
We still produce our fine leather goods much the way they were produced a century ago. All of our leather goods are handcrafted in small batches from superior and selected heavy English FInished Domestic Bridle Leather. Hardware is Solid Brass or Stainless Steel when there are not supply chain issues. Our deeply engraved Name Plates are polished and inked by hand. We are one of the last full service Tack Shops and our Engraving, Halter Making and Repairs are all done in house.
Please note that supply chain issues have forced us to use plated hardware on some of our halters. With delivery quoted on some items, in August 2022, we have no other option than to substitute materials when it becomes our only option. We are ordering Solid Brass and Stainless Hardware and hoping we do not get backordered. 


Quillins retains the right to adjust or change shipping, materials, products and descriptions